Events
Navigation
Regional Meetings
We are coming to you! This year, we will be visiting each region throughout the summer to host a local meeting to provide legislative, regulatory, and association updates. Visit with us and your fellow REALTORS® and catch up on all things Alabama real estate! No registration necessary. We hope to see you there!
Click on your region below to see when and where your meeting will be held.
Regional Map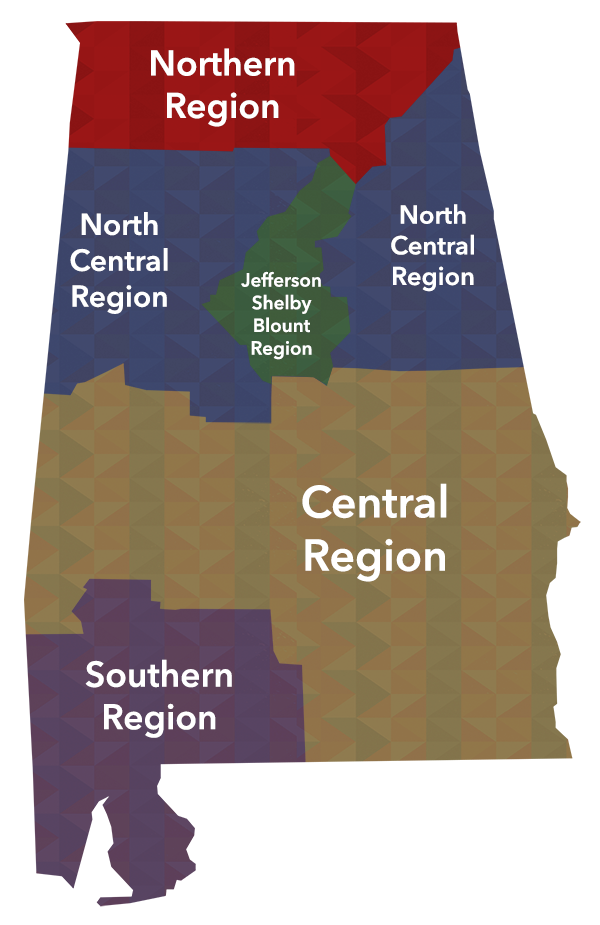 Thursday, June 1, 2017 | 3:00 pm-5:00 pm
Alabama Center for the Arts
133 2nd Avenue NE, Decatur, AL 35601
SPONSORSHIP INFORMATION
If you are interested in being a sponsor for the Alabama REALTORS® Regional Meetings, please contact:
Bradshaw Tyson
Director of Communications & Marketing
(334) 262-3808
bradshaw@alabamarealtors.com
About Us
The Alabama Association of REALTORS® (AAR) is the largest statewide organization of real estate professionals comprised of over 15,000 members from 26 boards and 1,200 real estate companies. United by adherence to a Code of Ethics, our members work as real estate professionals in the sale, lease, appraisal, management and development of residential, commercial, rural and resort properties throughout Alabama.
Copyright © 2018 Alabama Association of REALTORS®
All rights reserved.
Get In Touch
522 Washington Avenue
Montgomery, AL 36104

Tel (334) 262-3808
Fax (334) 263-9650
Free | 1-800-446-3808
mailbox@alabamarealtors.com