My Oh My - It's Cinco de Mayo!
May 3, 2021
May 5 brings out the crowds to virtually every Tex-Mex eatery and taco joint in Alabama in celebration of Cinco de Mayo. While the Mariachi bands serenade the margarita drinkers and guacamole dippers, does anyone focus on the reason for the festivities? A 2020 survey found that 41 percent of Americans think Cinco de Mayo is Mexican Independence Day (Grito de Dolores) which is actually observed on September 16. Apparently, it's time for a history lesson.
History Basics
First, raise your glass and thank the French for Cinco de Mayo. The holiday is primarily observed in the state of Puebla. That's where the small Mexican army of 2,000 soldiers, led by General Ignacio Zaragoza, defeated France's army of 6,000 at the Battle of Puebla during the Franco-Mexican War. The day is also known as Battle of Puebla Day. "Traditions include military parades, recreations of the Battle of Puebla, and other festive events. For many Mexicans, however, May 5 is a day like any other: It is not a federal holiday, so offices, banks, and stores remain open," according to History.com. Schools, however, are closed.
A northern California town is believed to have celebrated the holiday first. According to Parents magazine, American and Latino families held a fiesta with food and drinks a few weeks after the battle.
In America, Cinco de Mayo has evolved into a celebration of Mexican culture and heritage, with a heavy emphasis on the celebration. History.com says Chicano activists raised awareness of the holiday in the 1960s, in part, because they identified with the victory of indigenous Mexicans over European invaders during the Battle of Puebla. In 1933, Cinco de Mayo was officially recognized in the United States as a result of President Franklin D. Roosevelt's Good Neighbor Policy that aimed to establish positive exchanges and relationships with our Latin American neighbors.
Today, revelers mark the occasion with parades, parties, mariachi music, Mexican folk dancing, and traditional foods such as tacos and mole poblano.
So, eat, drink, and don't forget your souvenir margarita glass and t-shirt at the best Cinco de Mayo fiestas in Alabama. From mom-and-pop taquerias to regional chains and favorite "hole-in-the-wall" restaurants, there's a perfect party about to happen on May 5th.
Here's a guide to the can't-miss places to gather with your amigos:
The "Big Name" Eateries:
Little Donkey - With locations in Homewood, Hoover, and Montgomery, Little Donkey has a neighborhood vibe and offers traditional Mexican food with a "southern soul."
Taco Mama - Wherever you are in Alabama, your Taco Mama is close by with 13 locations serving classic Mexican fare and a whole menu of margaritas in a funky party atmosphere. University of Alabama students and alumni check in often with "Mama" in Tuscaloosa.
Chuy's - A national chain with two Alabama locations – Birmingham and Huntsville – Chuy's Tex-Mex menu is almost as fun as its décor. Cinco de Mayo is an all-day happy hour at Chuy's.
Rosie's Mexican Cantina - Florence and Huntsville are home to everyone's favorite cantina. Rosie's offers traditional Tex-Mex fare and some house specialties like mahi-mahi fish tacos and Mexican lasagna.
Dine Local:
El Cerrito Mexican Grill - Right off I-65 near Millbrook is family-owned El Cerrito where you're likely to find folks from Montgomery, Prattville, Wetumpka, and other River Region communities gathering for great food and the owner, Gustavo's, quick wit.
Don Carlos - On the eastern shore of Mobile Bay, you would expect to find seafood and Don Carlos Mexican Restaurant incorporates those fresh Gulf shrimp into several of their Mexican dishes. Live music on Friday nights and a family-friendly environment are a winning combo platter.
Fuego - Described as Mexican with a coastal flair – like jalapeño pineapple skewered shrimp – this casual Mobile eatery has a diverse menu including vegetarian options such as avocado and corn salsa tostadas.
The Authentic Taco - Does anyone eat Mexican at the beach? If you're a local, a snowbird, or a frequent visitor, you flock to a Gulf Shores Chevron gas station for the good stuff. The Authentic Taco, located near Cotton Bayou Beach, draws lines of hungry folks who've heard about the made-from-scratch tacos and sauces created from family recipes.
Taqueria El Cazador - Located inside Huntsville's Stovehouse entertainment complex, Taqueria El Cazador began as a "taco bus" and still maintains two Huntsville-based buses in addition to their Stovehouse location. Along with traditional Mexican dishes, the menu includes harder-to-find items like Menudo and beef cheek.
Time to Fiesta!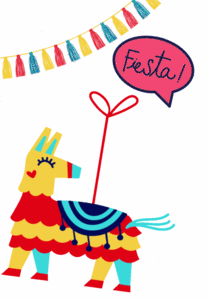 In 2020, the pandemic forced everyone to hang up their sombreros or party at home. The Centers for Disease Control and Prevention still encourages social distancing and masking in crowds, but recent lower COVID numbers are allowing larger gatherings like these:
Anniston - Cinco de Mayo with Anniston Bar Church
6:00 p.m.-8:00 p.m. at Peerless Saloon and Grill (Saloon Side) | Anniston First United Methodist Church hosts a celebration at its Peerless Saloon worship site.
Birmingham - Cinco de Mayo Social
5:30 p.m.-8:30 p.m., Pizitz Food Hall | Join YPBirmingham and Rotaract for a fun-filled evening of tacos, margaritas, and music. Get tickets here. More fun at Birmingham Cinco de Mayo
Huntsville - Huntsville Cinco de Mayo
Mobile - Mobile Cinco de Mayo
Tuscaloosa - "Keeping It Spicy" Cinco de Mayo Celebration!
5:00 p.m.-7:00 p.m. at the Hotel Capstone Ballroom | This Osher Lifelong Learning Institute (OLLI) fundraiser allows you to enjoy a mixology demonstration (with cocktails) a cooking demonstration (with dinner), music, and fun! For more information, contact OLLI at 205-348-6482.
Even if the party is at your hacienda this year, gather your favorite foods and friends, hang a piñata, and toast General Zaragoza and his brave soldiers. And don't forget to eat your share of the 80 million pounds of avocados Americans are said to eat on May 5th. Ole!