Broker Spotlight: Anita Dawkins-Weatherington
June 14, 2021
Anita Dawkins-Weatherington's exuberant voice is captivating from her first "hello" and reflects her enthusiasm for life and real estate. Within moments you have no doubt that Dawkins-Weatherington is on fire, takes charge, and makes things happen. As the qualifying broker/owner of Community First Real Estate in Dothan, Dawkins-Weatherington considers herself a trailblazer as one of the early African American Realtors® in Dothan.
A Slocomb native raised by her grandmother, the late Eloise Campbell, Dawkins-Weatherington is married to Shawn Weatherington. A self-described cheerleader from childhood, she credits sports and her coach, John Webber, for instilling principles of discipline that have shaped her life.
Dawkins-Weatherington's brokerage employs 10 agents and through the years she has won awards for both real estate sales and community service. She calls her approach to real estate faith-based. "Real estate is more than selling a house – it's a ministry," Dawkins-Weatherington said.
Others have taken note. Dawkins-Weatherington has shared a sofa with Oprah Winfrey as part of the "Oprah's Lifeclass" on colorism. Dawkins-Weatherington was later cast as an extra in the Winfrey-produced movie, Selma. She has also worked with the late attorney and civil rights activist, Johnnie Cochran, and with Bishop T. D. Jakes.
After surviving COVID last year, Dawkins-Weatherington wrote a book of daily prayers and daily motivational scripture passages. The book launched on Amazon in February.
We asked Dawkins-Weatherington to share some insights into her life, career, and lessons she's learned along her path to success.
Q: Describe a typical day in the life of Anita Dawkins-Weatherington.
A: I'm an early riser – a 5:00 a.m. person. I like getting started early and giving my first 30 minutes to God. I meditate and read my daily devotional. Then, I check messages from my two Facebook pages. People start texting me around 6:30 am. People are always inquiring about how to become a homeowner.
I get to the office around 7:00 a.m. and get on my actual email to check on any offers submitted the day before and any contracts. I follow up with agents and send them a daily motivational email.
Normally, my calendar is full, with my first appointment at about 8:15 a.m.
I do a lot of homebuyer workshops virtually and in-person, working with low and moderate-income clients. I answer lots of budget questions and respond to lender emails. I always check the Alabama Housing Finance Authority website. I'm a big fan.
Q: It's an obvious question, I know, but what prompted you to choose real estate as a career?

A: God led me there. I was working at Dothan City Schools making $915 a month as a teaching assistant. I was fasting and praying and asking God to lead me in what he wanted me to do. I finally had a break. I kept seeing commercials about becoming a Realtor®. I used the school library to research Realtors® and started reading about Realtors® helping people find homes and how happy people were to become homeowners. I started seeing myself helping people. I didn't know then what I know now. I just knew it was a very important job of integrity where you could help people. I found classes and paid $395 for the course.
People were against my career choice because the market had just crashed the year before. I remember praying for God's will to be done. I didn't make any money the first month. Everything I tried failed, and everyone I was trying to get to qualify for a house was turned down. Just when I was about to quit, God sent a preacher as my first client. From that day my life changed. I learned that God had to break me in order to use me. Avery Yarbrough, a mortgage lender and retired educator, took the time to educate me about things that simply are not in a textbook. One night, I woke up and read a Bible passage, Hosea 4:6 -- "my people will perish for the lack of knowledge." That verse prompted me to make a difference in our community, so I decided to pull together all the professionals who are affiliated with a real estate purchase to start educating people about the process. No one was doing this in my area – offering a free home buying workshop as a community service project. About 40 people of all ethnicities showed up for that first class. Since then, I've done thousands of workshops in a 7-county area to help educate people on the home buying process. To give back to my community, I volunteered at the local human resource center to help people going through hardships apply for loan modifications to avoid foreclosure. I truly feel it's our obligation to give back through service. God gave me this ministry to help educate people on all aspects of real estate whether it's purchasing land, commercial property, or a single-family dwelling. The process is different even down to financing institutions.
First-time homebuyers need to know all aspects of their purchase, especially when it comes to their monthly payment. I don't care how much a person is prequalified for; I only want to know how much you want your payment to be. Often, this is not the question that is asked, so buyers tend to shop at the top of their budget instead of what is affordable. Uncle Google doesn't tell you about private mortgage insurance, homeowner insurance, and taxes. I tell them to call their lender and ask for a good-faith estimate on payment increments. I am a HUD-certified counselor and I teach financial literacy.
Q: How would you describe your first year in real estate?
A: Well, the market crashed the year before I jumped in and people really thought I was crazy. The local newspaper even wrote an article about me saying that my chances of being successful were slim.
But, in my first year, the Dothan Association of Realtors® – now Southeast Association of Realtors® – named me "Rookie of the Year" for the number one units sold among all the other Realtors®.
When I became a Realtor® in Dothan 12 years ago, there were only three African-American Realtors®. There weren't a lot of minority homeowners here either. I found a lot of people just didn't know how to apply for mortgages. Credit wasn't talked about in certain communities because no one took the time to help educate people.
The first time I showed a house in my area a neighbor thought I was a burglar. He called the police and they showed up and laughed. No one had seen an African-American Realtor® in the area. Now, this was 2009 so our community has changed tremendously. Right now, there are about 30 African American Realtors® out of 468 – still a small number, but the key to success is educating underserved communities about homeownership. Homeownership among minorities in our area has changed significantly, and I am just thankful that God used me to help bridge the gap.
Q: Any important lessons learned along the way?
A: Being a Realtor® has taught me the importance of making sure your client understands the process and doesn't just look at it as a purchase – but an investment to meet their family needs. Being a Realtor® is more than a title. It's earning the trust of the people in your community. A mortgage payment is the biggest note most people will have in their entire life. Your performance helps people make that decision.
Being a Realtor® definitely helps build character. It also instills a different type of love and respect for your local officials and Chamber of Commerce who fight hard for economic development and affordable housing for our community. I feel like I've played a big part in building our community in Dothan by being involved.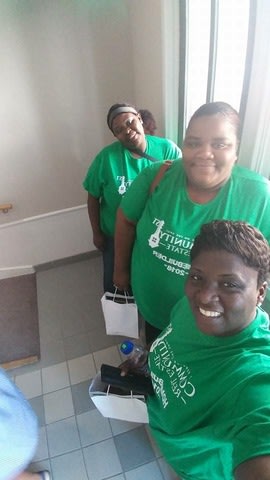 Q: As you look back on your life and career, can you identify a defining event or person that directed your course?
A: I had four amazing mentors: former Dothan Mayor Mike Schmitz; Susan Vierkandt, Qualifying Broker/Owner of Berkshire Hathaway HomeServices Showcase Properties; Michelle Frander, a mortgage originator at First Bank; and Darell Reid, Realtor®. All have been very successful. Mike gave me a "Go Go sheet" that he gives all his car sales associates. It helped me define my purpose, mission, and what I am trying to accomplish by being a Realtor®.
Susan helped me navigate the fundamentals of owning a brokerage. Michelle gave me the tools I needed to understand the guidelines to help educate people about the differences in loans. Darrell, my first broker, helped me understand how to sell real estate with confidence and assurance.
Community service has defined my course. Working with former Mayor Schmitz and other community leaders, we are currently doing a Food Drive Pop Up in different communities in our area each month. It helps offset extra expenses families had when homeschooling their kids. The bonus food boxes came in handy. Our biggest community event is the annual Dothan Christmas Luncheon and food giveaway we started 20 years ago. Because of COVID, the 2020 luncheon was a drive-thru grocery giveaway. I also co-founded the Neighborhood Kids Fun Day and started a student awards program.
Additionally, I am a Dothan Tuesday Rotarian - they stand on service. I have served on the City of Dothan Community Block Grant program thru HUD for eight years. We help distribute funding to non-profits in our community.
Q: What do you consider your biggest accomplishment?
A: When I stepped out on faith three years ago and opened Community First Real Estate.
Q: Any advice for those entering the profession?
A: This is a faith-based job, and we are held to a higher standard. We are public servants. The things you do and say will determine your business portfolio for tomorrow. Treat people the way you want to be treated and remember to put their needs before your own. Referrals are the best source of business. People will always remember their experiences. You get to determine your own success. Find the ministry in what you do and you will never work.
I thank God for the 12 years He has given me to provide a service to people - and I haven't missed a meal yet.