Getting to Know RaJane Johnson: Your 2023 Alabama REALTORS® President
November 11, 2022
RaJane Johnson is a survivor – the strong steel magnolia-like southern woman who would still be standing long after Scarlett O'Hara packed up her parasol. In recent years she survived the end of a 30-year marriage. Brighter days appeared when she met her future husband and became engaged only to be diagnosed with breast cancer and undergo a double mastectomy. She's that kind of survivor and she brings her perseverance and strength to her new role as 2023 President of the Alabama Association of REALTORS®.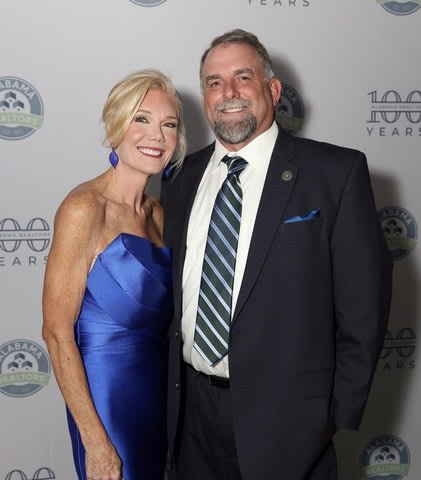 Johnson credits her upbringing for her strength and persistence. She is grateful for her late mother – another strong woman who endured breast cancer. "I believe I am alive today because my mother had breast cancer," she said. "We were both 55 years old and had a clear mammogram before we felt a knot." Johnson knew what to look for because her mother had insisted that she and her sisters feel her knot.
Her dad gets credit for instilling in her a strong work ethic. The father of three girls by the time he was 24, he taught her to make her own destiny. "You will never get rich working for another man," he warned. Johnson embraced her father's advice and has worked since she was only 14 years old.
Now a successful broker/owner of Agency on Main in Hartselle, Johnson knows that, although women now make up 64 percent of the National Association of REALTORS® membership, that statistic was hard earned. When NAR began, the association was all male. "Before 1974," she pointed out, "a woman could not buy a house without a male co-signer." Now, 19 percent of single women own their own homes.
Johnson has a deep connection with her local, regional, and state REALTOR® colleagues. She served in critical leadership positions including: 2021 AAR Treasurer; 2020 AAR Secretary; 2019 AAR Regional Vice President for North Alabama; 2018 AAR Regional Vice President VP for North Alabama; and 2015 Morgan County Association of REALTORS® President.
Johnson brings her strength and determination to her new role as AAR president. She believes there is more that unites members than divides them and pledges to work together with AAR members to focus on the positive and move forward. Her theme, "We Realize What It Takes," calls on members to join her in fighting to protect private property rights and help property owners build wealth and financial security. She encourages members to engage in professional development and training to sharpen the tools of their craft.
"AAR has thrived and grown over the past 100 years," Johnson said. "It's up to us to work together with high standards and vision. With our work today, we are writing AAR's next chapters in its long history of service to our profession and to protecting private property rights."
"I am honored and excited to serve as AAR's president alongside a talented and fiercely focused leadership team and staff," Johnson said in her speech to 2022 Annual Convention attendees. "We realize there is MORE that UNITES us than DIVIDES us! I will represent you. YOU matter, YOU are important to our industry. YOU realize what it takes to make our association and our profession better. Remember this: We ALL get a say; none of us get OUR way and we do what's best for OUR association."