'Scarface' Mansion In Montecito Lists For $40 Million
March 18, 2022
Treasured homes along the California coast often come with a Hollywood connection.
In Montecito, El Fureidis, a grand mansion most notably featured as the home and symbol of extreme wealth for Al Pacino's titular character in the 1983 film Scarface, is now on the market for $39,995,000.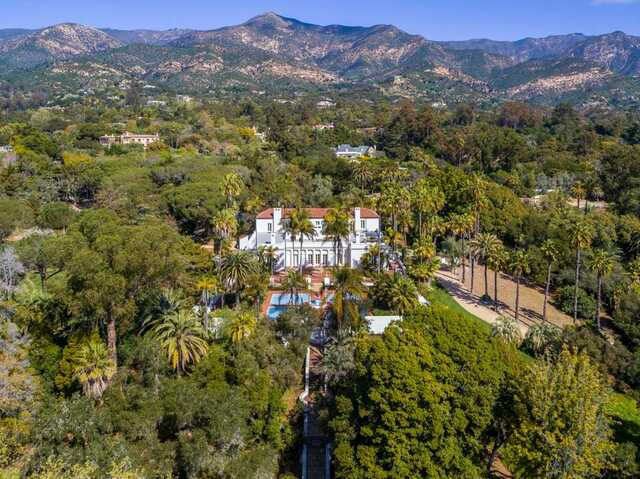 Few properties capture the imagination like Montecito's El Fureidis. (Village Properties)
Designed by celebrated architect Bertram Goodhue for real estate tycoon James Waldron Gillespie—who is said to have traveled to Montecito because of its likeness to the fair-weather climates of the Mediterranean—the 10-acre estate was completed in 1906.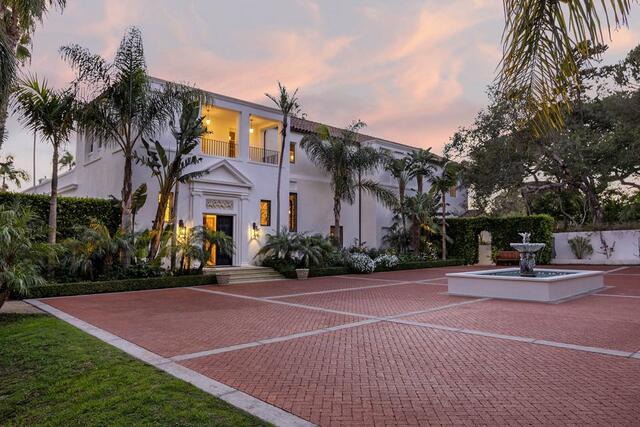 A globally-inspired architectural achievement, the property has been a fixture of Montecito for more than a century. (Village Properties)
Since then, the roughly 12,000-square-foot mansion has welcomed such remarkable guests Einstein, Churchill and John F. Kennedy. Renowned German author, Thomas Mann, is among former owners.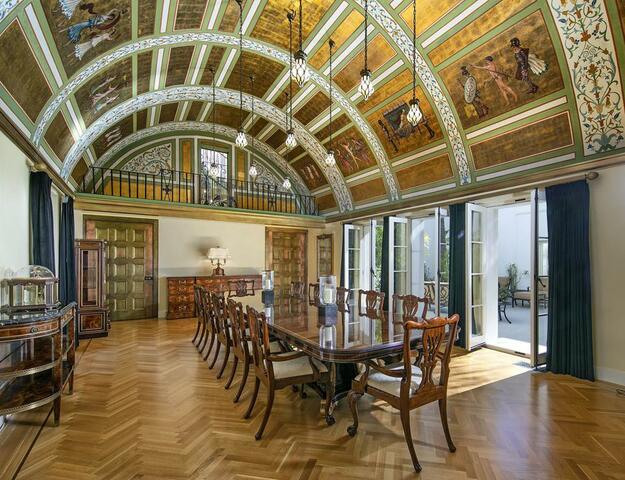 Designed by Bertram Goodhue, El Fureidis is a stellar example of the artisanal craftsmanship found in Southern California during the early 1900s. (Village Properties)
Though the estate has undergone renovations and updates to include modern comforts, the original grandeur remains. Primarily of Mediterranean Revival designs, the five-bedroom, seven-bath home also features Neoclassical and Middle Eastern elements, such as tiled, interior fountains, domed ceilings and elaborate mosaics.
Graceful details continue in the home's seven bedrooms. (Village Properties)
The air of old-world regality can also be found in the mansion's massive dining room, whose barreled ceiling displays a scene in 24-karat gold leaf painting of Alexander the Great conquering Persepolis.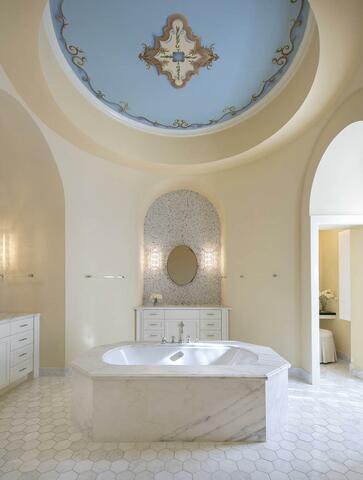 A lavish bath set beneath a domed ceiling sets the stage for the home's primary suite. (Village Properties)
Other noteworthy areas of the home include a central atrium, rooftop lounge with 360-degree views and updated kitchen.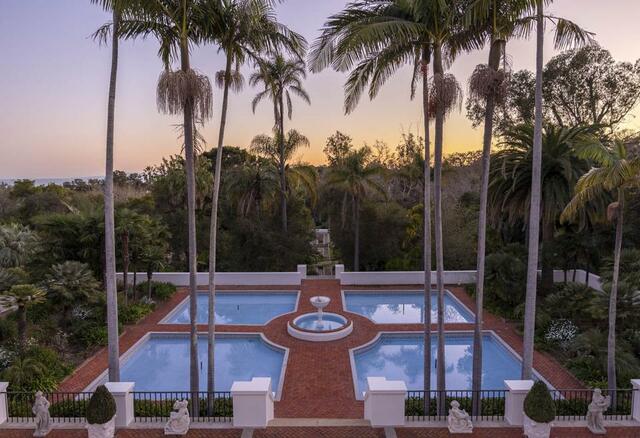 From the patio, layered gardens unfold in layers to create one of the most tranquil atmospheres in Southern California. (Village Properties)
Outside, walking paths lined with a variety of trees, some over a hundred years old, wind throughout the estate. Also about the grounds are an array of curated spaces such as layered gardens, pools and terraces—outdoors spaces that served as the backdrop for Tony Montana's wedding scene in Scarface.
The estate was built in the early 20th century for the scion of an affluent New York family. (Village Properties)
Located less than two miles away from the ocean in the foothills of the Santa Ynez Mountains, El Fureidis features far-reaching views of the Pacific, including sights of the Channel Islands.
Given it's prime location, El Fureidis takes in spectacular views of the Pacific, including sights of the Channel Islands, and the mountains behind it. (Village Properties)